BizBash has recognized INVNT client, Walmart as one of 2020's most innovative brands in event marketing.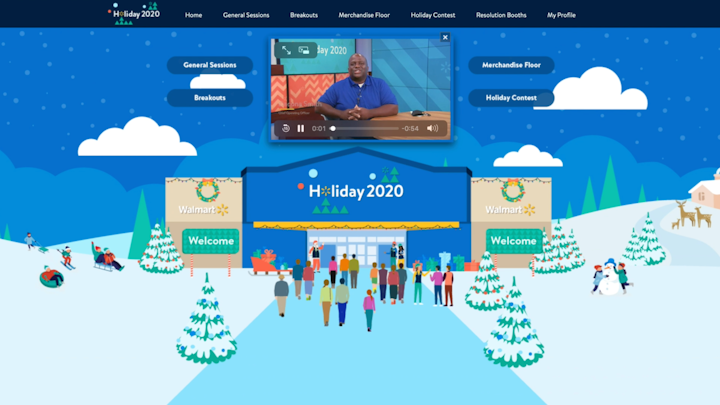 The Basics: Like most major corporations, Walmart hosts hundreds of events each year, from large to small, both internal and consumer-facing. And like other brands, the Arkansas-based retail giant was forced to cancel its in-person events, adjust contracts, and figure out new ways to deliver content through virtual experiences when the pandemic hit at the start of 2020. In fact, the nationwide shutdown in March came right before the annual Walmart U.S. Year Beginning Meeting that traditionally gathers about 6,500 store leaders over two days in a convention center. The corporation quickly pivoted, transitioning the content to video within a week.
From there, Walmart continued to evolve its virtual event strategy with a greater focus on breaking through the video screen to engage attendees. The retailer also leveraged its store parking lots, turning them into makeshift outdoor venues with contact-free events including football tailgates and Halloween parties.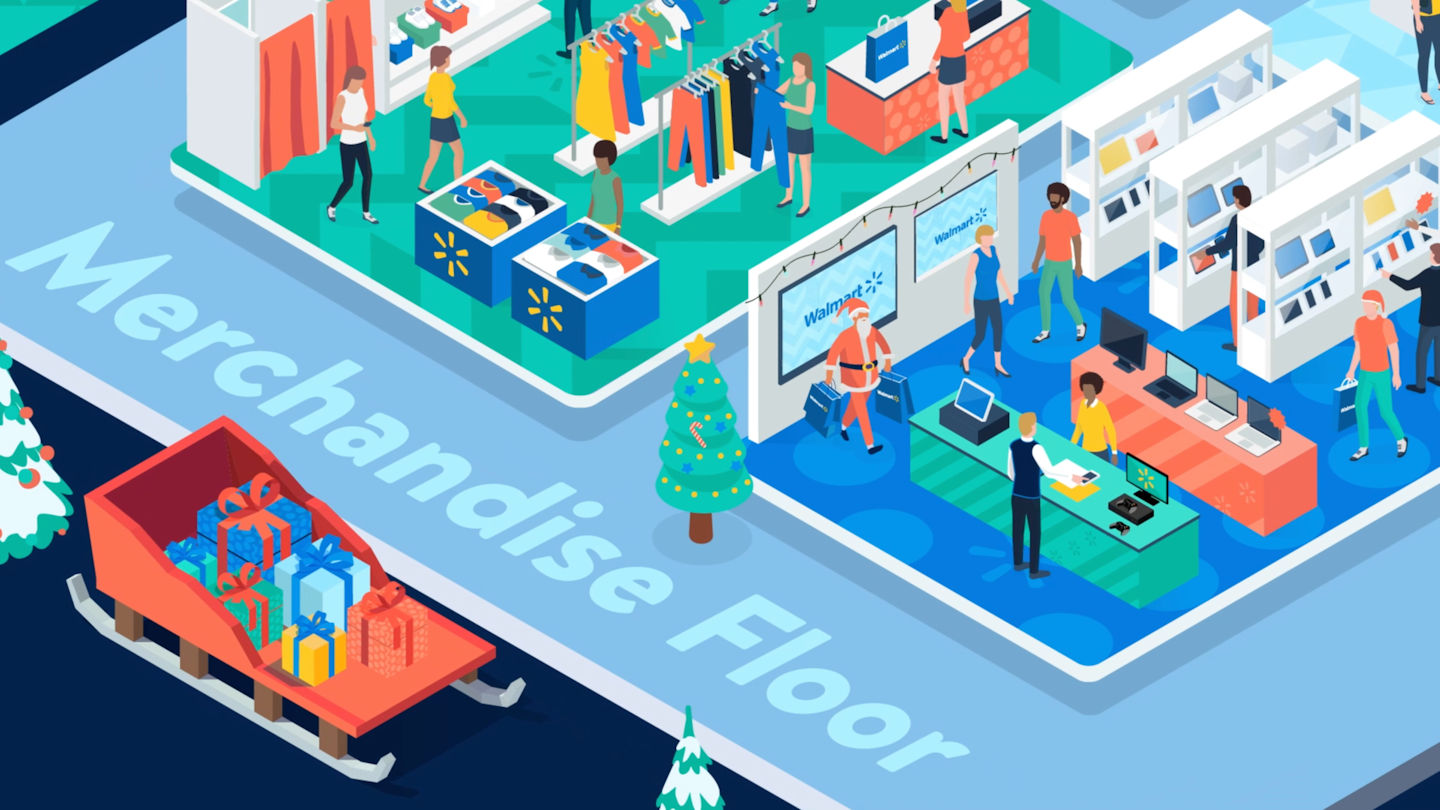 Most Innovative Events: Mark Henneberger, vice president of event solutions at Walmart, pointed to the company's holiday meetings for both the Walmart and Sam's Club businesses as the most innovative events of the last year. These meetings bring together store/club managers and leadership teams (7,000 and 1,500, respectively) to prepare for the holiday season. In 2020, instead of a massive exhibit floor that showcased new holiday products and seasonal merchandise for employees, the annual Sam's Club's event went totally virtual (previous years did include a series of on-demand videos) with online sessions from senior leaders who broadcast live from sets in the Sam's Club Support Building Auditorium.
And for Walmart's holiday meeting, the company partnered with event agency INVNT to create a festive virtual setting that allowed for more attendees than is possible in person, Henneberger said. He added that since the stores were deemed essential businesses during the pandemic, "It was important to create flexibility for store managers to lead their stores and participate in the meeting at the same time. With this virtual approach, there were very few specific times they were required to participate, and the majority of it was a 'choose your own adventure' approach." In addition to general sessions and breakouts, attendees could tour an interactive virtual merchandise floor that included videos of merchants talking about key products.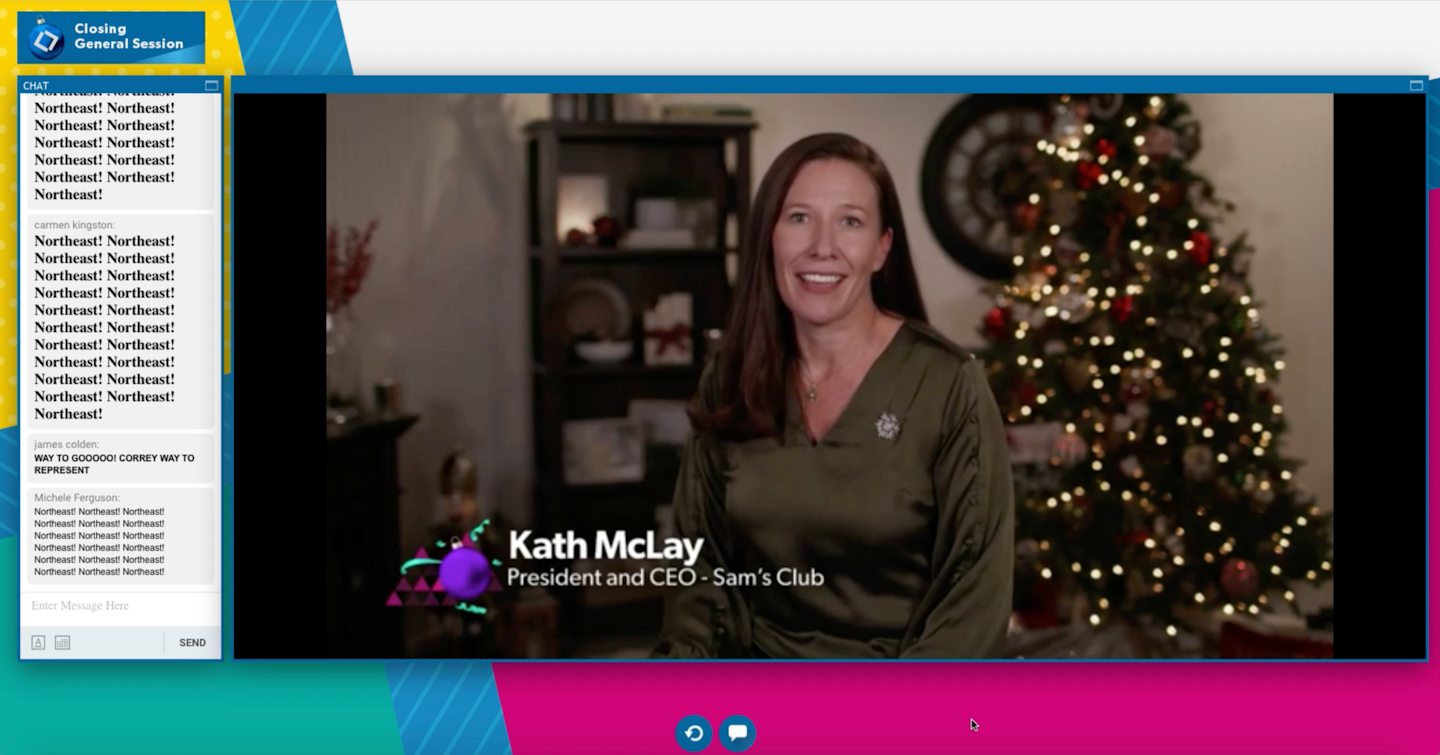 Lessons Learned: "It's important to remember that, while we've now been producing true virtual events for going on a year, this is the first time for many of our clients," Henneberger says. "We've been working to educate them on the 'new rules' of events and audience engagement, and help them create solutions that are different from what would have traditionally happened in an in-person setting."
The Company's Event Evolution: "Like in-person events, not all virtual events are the same. We're using what we've learned to determine what approach is best on an event-by-event basis," Henneberger says. "Sometimes that's as simple as a Zoom connection with a great agenda. Other times it's a complex series of prerecorded videos and live studio feeds combined with a live Q&A from the audience. Other times a fully involved virtual event platform that brings to life all of the aspects of an in-person event but virtually is what is needed. And there's so much in between. We're constantly evolving and engaging with our audiences in meaningful ways."
What's Next: "We've learned a lot the past year, and while the future is uncertain one thing is for sure—going forward, expectations of events will be different. We surely hope we can get back to in-person events soon, and when we do, we're excited to bring some of the virtual learnings to integrate in new ways," Henneberger explains. "Maybe in the future, attendees will have the option to attend in person or virtually. Or maybe attendees will be in person, but there will be elements of virtual that we haven't used in concert with in-person before. None of us really know what the future will hold."
Read the full story here.
Most Innovative Brands in Events 2020: Walmart