With attendee engagement the top priority, big names such as Rove McManus and Ash Barty were called in.
With Zoom fatigue and webinar overload some of the common themes of 2020, event producers are faced with the ultimate challenge of breaking through the noise to deliver an online experience that truly engages.
That was the biggest challenge software company SAP Australia and New Zealand faced when deciding to take its flagship event Effect 2020 and make it virtual.
But with a broadcast-style format and a 'choose your own adventure' option for attendees, the event was hailed a success.
Directed, captured and produced by event agency INVNT, Effect comprised three 30-minute episodes, each showcasing the best of innovation and technology. The episodes aired over three consecutive weeks, hosted by Aussie comedian and media personality Rove McManus.
Among the high-calibre guest speakers were Women's Tennis Association World No.1 Ash Barty, SAP futurist Martin Wezowski, ocean advocate Emily Penn, plus experts from SAP, National Australia Bank, UberEats and WWFAustralia.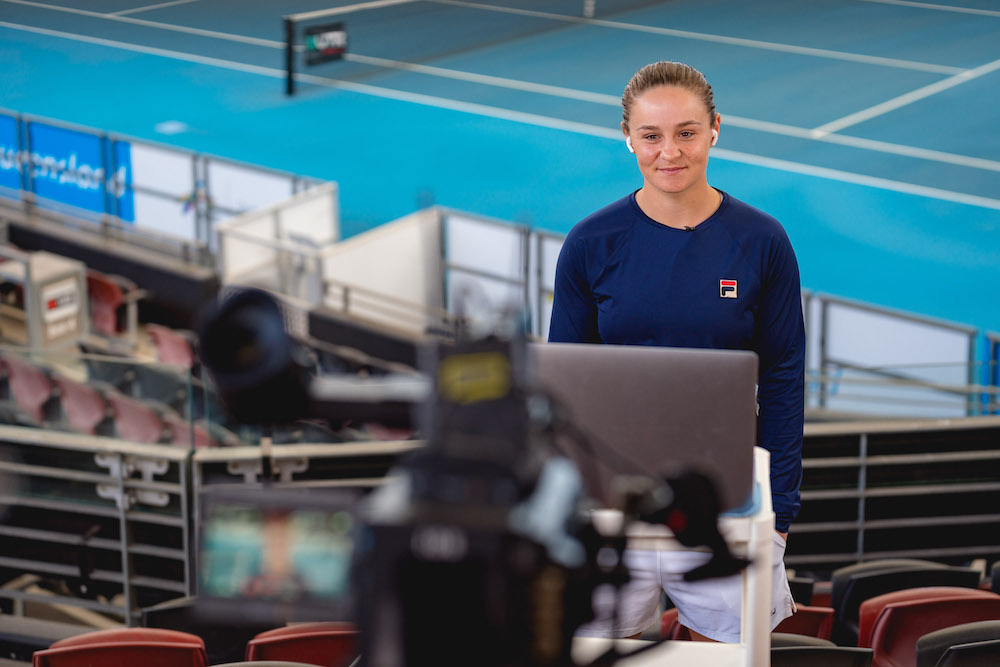 Turning an event into a broadcast
Fiona Pullen, head of production at INVNT, said the first challenge was deciding how to build on the success of the Effect launch event in 2019, which had the benefit of a fully immersive, live environment.
"We decided to not even try to replicate this format for a virtual environment but rise to the challenge and come up with a truly unique and creative solution that would showcase and celebrate a new genre of event-content," she said.
"We solved the problem by cutting through the virtual event clutter and opting for a high-end, television-style delivery method. We also chose to build our own custom site rather than rely on a virtual event platform."
In keeping with the television-style format, the presentations were delivered as 'episodes', an intentional move on INVNT's behalf.
"We know from research that audiences switch off during long virtual presentations, so collectively brainstormed the ways we could keep the conversation going and increase the lifespan of the event," said Pullen.
"We subsequently decided on a bite-size episode format where the content was both entertaining and shareable. The three episodes also enabled us to keep the content fresh and change the messaging to reflect the three key event themes of future of work, sustainability, and innovation in the real world."
Choose your own adventure
While each Effect episode aired at a specific time, the content was also available on demand for full audience flexibility.
With this came the opportunity for INVNT to develop a 'choose your own adventure' style of virtual experience, which proved a success.
"Housing the episodes on a custom website presented opportunities to keep the audience coming back for more," said Pullen.
Additional, regularly changing content included a live webcam streamed from Taronga Zoo, virtual DJs, a live didgeridoo performance by Australian Aboriginal musician Mark Atkins, a cooking demonstration by Sydney chef Nelly Robinson, plus updates and useful resources.
"The event website continues to provide entertainment too, in the form of the aforementioned 'choose your own adventure' content, longer directors cuts featuring content such as a rare Ash Barty interview, and even a bloopers reel that changes every week to keep the audience guessing…and returning!" said Pullen.
"We also developed a special competition where hidden tennis balls were sprinkled throughout the site and viewers could win signed Ash Barty merchandise."
A new opportunity
Rushenka Perera, head of marketing at SAP Australia and New Zealand, said the new format opened the event up to new audiences this year.
"The idea was to bring something different to the digital B2B event arena, drawing more on a B2C delivery style that was engaging as well as informative," she said.
"We also wanted to set something up that set it apart from the usual video-conference talking head type event."
Positive feedback from attendees indicates that goal was achieved.
"The overall feedback has been positive, with attendees recognising that there was a lot of effort put into the production quality to keep them watching," said Perera.
"There have been a lot of comments about the quality of the speakers and the content, and having Rove to stitch it all together with some humour."
SAP exceeded their target for registrations, with over 3,500 people registering to attend, and succeeded in building on its existing customer base, with new audience members making up 21 per cent of attendance.
"The beauty of digital is the longevity, and we have two more months of promotion left to increase registrations and attendance," said Perera.
The value of events in the marketing mix
Perera said events are an important part of the marketing mix for SAP, so the switch to a virtual event was a necessary one.
"We had to pivot quickly with our physical events converting to digital and we have had numerous learnings along the way," she said.
Perera believes a successful virtual event comes down to one major component: engagement.
"With a physical event, once they are there it is easier to keep them engaged. It is harder work getting the right content and speakers, and the right delivery format for digital," she said.
"One thing we have seen is that audiences are more fickle from a digital perspective, so you need to do more to remind them to attend, and then you need to do more to keep them there."
Read the story on Spice News here.
Case study: How Effect 2020 redefined the virtual event experience